14 April 2022 edit: The Google My Business program has been, a few months ago, renamed Google Business Profile. I know that business owners will probably still be thinking about it and searching for it by both names for a little while, so I haven't purged every old reference to Google My Business.
If you're a local business who interacts face-to-face with customers, yes, you should be using Google My Business. This includes local businesses with storefronts that customers can visit, as well as service-area businesses that visit customers at their locations. It's the most impactful thing you can do to increase clicks to your website and calls to your business.
If you don't visit customers in person inside your service area, and you also don't have an address that customers can visit during your listed hours, your business won't eligible for a Google My Business listing. That means that, for example, online-only ecommerce businesses without brick-and-mortar stores that customers visit are not eligible.
Even if you have a co-working space, or rent a private mailbox or post office box which you use to receive business mail, this won't work for a Google My Business listing. Even if you could get verified with such an address, it would be a violation of the Google My Business terms of service. So you would risk getting the entire listing– including any reviews– deleted once Google catches on.
But if you are a local business who does interact with customers either by visiting them or them coming to your location, Google My Business can be a huge asset to use alongside your website.
Why use Google My Business?
Your Google Business Profile, or listing, will give you a chance to appear in what is sometimes called the Google Map Pack, pictured below. The Google map pack comes up when you search for things like plumber near me.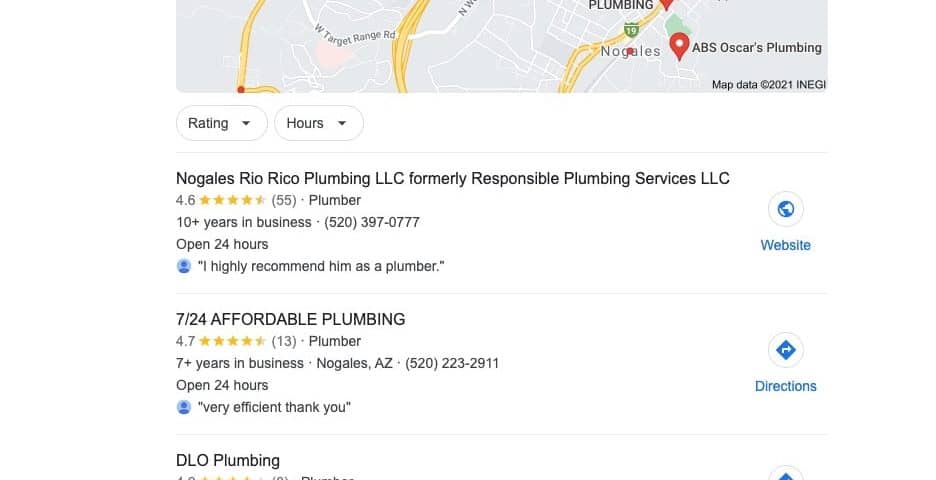 It stands out visually from other search results, so it gets a lot more clicks.
Google My Business allows you to manage the way your business appears in search and Google maps. As you can see, it gives a ton of info about the business at a glance: the hours, the locale, the star rating, how long you've been in business, the number of reviews, and a link to your website. And it even gives a snippet of a review right in the listing.
As you can see, your appearance in the Map Pack can dramatically shape the way that a customer sees your business in the search engine results.
Have you ever googled a business, like "haircut near me", and traveled to the one that looked good– only to find that the hours were inaccurate and the business is closed?
Or the opposite– the store was listed as "Closed Now" but they were actually open?
Or traveled to a store that claimed to sell something you need and found that their listing misidentified the business– like their listing said they sell hot tubs, but they were actually a maintenance service?
All of these problems are easily avoided by taking control of your Google listing and taking a little time now and then to update it. Google will even prompt you to update your listing with special hours during things like national holidays.
You won't have to pay anything to take control of your listing. Here's the steps to get started.
First, check whether your profile already exists.
If your business has been around a while, you may already have a profile (ie, listing) that has reviews and info attached. If so, you'll want to claim that instead of starting a new one. You will need a Google My Business account to take ownership of and edit this listing. After creating your GMB account, you need to verify ownership of the business by mail or sometimes by phone or text.
In my experience, it's always been by mail. You'll receive a postcard to your business's physical address, and that postcard with have a code with further instructions for where to enter the code to verify that you are indeed a real business that exists at that address.
Next, verify the existing information is accurate.
Your name, address, and phone number should be accurate on your Google My Business listing. If they are not, and you haven't verified the listing yet per step 1, wait to change anything until step 1 is complete. If there's multiple ways that your business is known– such as with and without "LLC" or "Inc." etc.– pick one version, and stick with it. That matching name, address and phone number is how search engines put together the puzzle pieces of your brand across the web.
Fill out any missing information.
Your profile includes vital info like your store hours, contact information, service area if applicable, and website address. You can also add relevant photos (you'll get more clicks with photos), list products or services, and post things like special deals, special store hours, etc. Businesses that have completely filled out their profile will have a better shot at showing up for relevant searches, so don't leave any blank spots. Fill out as much as you possibly can.
Going forward, encourage your customers to leave reviews.
Starting right now, push customer reviews.
That means as soon as you're done with this article, your first priority should be develop a process to direct customers to visit your Google My Business listing in order to leave a review. What is a script you're comfortable saying out loud, writing in an email, and even printing on a business card that will motivate your customers to write a review? I've shared an easy customizable how-to-ask-for-a-review script, so give it a read.
Some businesses make up a special business card with a QR code or a shortened link to their reviews. This is necessary, because by default, the link to get your your listing and then navigate to leave a review is way too long.
To make a review link that your customers can easily type, you can use one of two methods. To begin, you can sign in to your Google My Business listing via your desktop computer, or you can use the mobile app. You might want to use the mobile app so that you can always have your business's listing at your fingertips. Both methods are described at this official Google page.
Whatever your process, try to ask for the review every time! A good amount of great reviews can be the lifeblood of your business. A steady stream of reviews that mention keywords you're targeting will go a long way towards letting Google know that your website is relevant to those keywords.
Keep it up to date.
Since Google allows you to make posts regularly, anytime you have something new to say, try to post it on your GMB. This keeps your listing fresh, and Google likes fresh content.
So whenever you've got something to share, make a new post on your GMB listing. That includes:
New product or service
New blog post or white paper
Case study for a recent client or customer
Special deals or sales
Seasonal offerings
Tips that help your customers
Always be honest with Google.
Google's terms and conditions are binding, and if they are violated, they can shut your entire listing down. Fixing it after it's broken can be a real headache and you may be well served to hire a professional to straighten things out. This is a service that I offer as an add-on to my website care plan, so if you're interested in getting help making Google My Business work for you and help you stand out in the search engine results, please get in touch today.