Here's a quick list of what steps both services and brick and mortar storefronts can take to adapt and overcome in these new circumstances.
Brick and Mortar Storefronts
Some product retail businesses that rely on foot traffic have adapted to taking orders by credit card over the phone and delivering by post if possible. In cases where storefronts are still open to the public, local pickup might be offered, taking payment by phone or in person (following local health directives) and delivering goods straight to customer's cars.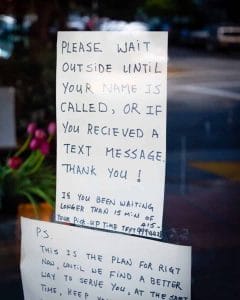 If you already have a website and a mailing list to contact your best customers right in their inboxes, you can hit the ground running. If you don't already, you'll be playing catch-up but there's no better time to be online than now.
Immediate steps to retain customers
In order to make sure your existing customers are aware of the changes that you have made, your first steps should be:
Updating business hours on your website, your social media accounts, Google My Business, Yelp, and anywhere else your business hours and location is listed
Sending out an update to your mailing list. If you don't have one, start one ASAP and solicit signups via your website, your social media accounts, and in person/by phone where possible.
Reaching out on local community pages, like locality-specific or industry specific community pages on Facebook where appropriate (check the community guidelines before posting)
But there is much more that you can do to thrive in the online retail space. Making the leap to think of yourself as an online retailer sooner rather than later is key; formerly, online retailers may have been your biggest competition, and you may have used the hands-on experience of seeing and handling your products, superior customer service, and your own experience in your product niche to stand out from this competition. Can you still do that online? Yes!
Ways to translate your storefront's strengths to your online advantage
Does your site get as much traffic as your storefront? Your storefront may have been in a good location and gotten a lot of foot traffic; now that the feet are staying home, getting web traffic is paramount. Now is the time to make sure that your online presence is in order, especially your local SEO. For more information see the article What is SEO?
A beautiful store deserves a beautiful site. You probably take pride in making sure that customers have a nice experience when they enter your retail storefront. Neat and tidy shelves, consistent branding, a well-thought out floor plan, good lighting– all these factors made shopping a nice experience.
Your website should meet the same high standards in its appearance and design, but it may take a professional eye. If your website leaves a lot to be desired because you've been focusing your budget and attention on your brick and mortar location, now may be the time to engage a web professional to help.
Treat your online customers right. A good customer experience in person can be translated to a good experience online. You might use software that allows you to greet and communicate in realtime with your customers in the form of a chat box to answer their questions. The checkout experience should be simple and easy, allowing whatever payment method the customer prefers using a payment gateway like Stripe or Paypal.
Replacing the showcase experience: When you can't see and/or handle a product in person, the next best thing is pictures and video. Having high-resolution pictures from a variety of angles makes customers more likely to buy. Even better are videos that demonstrate or explain. Take the highest quality video that you can, but videos should be under one minute long for most product types.
More in depth videos can be helpful for big investments, but for quick checkout, a brief video is better. In other words, as a quick rule of thumb, the more expensive your product is perceived, the longer your video should be.
Develop long-term relationships. Many stores have loyalty programs in place to encourage return visits; this is even more important when your business is online, since out-of-sight means out-of-mind.
The mailing list is key. The option to join your mailing list should be available on all your main pages, from your home page to the checkout form where they complete their purchase. If you can offer a discount or a coupon for the future, it's worth it. For soliciting signups in the offline world, make sure that you have an easy-to-type, short link to a page where folks can sign up– for example YourBusinessName.com/VIP.
Consider subscriptions. Another way to maximize revenue for minimal effort is to make it easier for your customers to get a regular supply of your product, if this is possible for your particular niche. If you need help setting this up on your website, please contact me– I can develop and customize this for you, as well as provide the subscription software itself as part of my website care plan. This software enables you to automate regular payments on any time interval you need.
In-person services
Business who typically provide services in person may be able to think creatively to change the way they deliver their service. But like brick and mortar storefronts, they need to make sure they have their online ducks in a row:
An appealing, well designed site
A mailing list signup so that you can keep yourself in your customers' inboxes
Well-thought out online customer experience, including possible real-time chat to answer questions
Fast, smooth checkout for any ecommerce
Fitness centers and gyms. Consider guided workout routines via videoconferencing. This can be automatically charged to your customers via subscription fee software, so that you can minimize and simplify your billing. No more chasing payments!
Similar to the above guidance for brick and mortar storefronts, gyms and fitness centers should also right away send out updates to their customers based on their current changed schedule or possible temporary closure.
Professional services. Offering online scheduling and videoconferencing can not just replace your current real-life meetings, but expand your market beyond the local. Make it a breeze for your customers to make appointments, automatically populate their calendars and set reminders, and keep track of all your appointments in one place too.
Restaurants and bars. Delivering or local curbside or parking lot pickup using ecommerce. Selling gift certificates for every occasion or for gift-giving.