When you're a small business owner, and especially once you get your business online, the amount of email you get can get pretty overwhelming. Claims of waiting fortunes from Nigerian princes, loads of social media notifications, endless transactional and marketing emails from the businesses you deal with, and (hopefully!) email leads from your website…it adds up.
"It'd be nice to have a clear inbox, but is it that big of a deal? I don't have time deal with it."
Managing email properly might seem like the digital equivalent of cleaning out your garage. A terrible hassle, one you know you need to do one of these weekends… maybe next weekend.
Unfortunately, it's probably a bigger deal than a messy garage.
An overloaded inbox can lead to missing critical emails. In fact, a sudden flood of spam emails is a method that hackers sometimes use to hide a password reset email. This is called "spam bombing."
Would you be able to tell if you got spam bombed? Or would it be just a few hundred more more on a pile of thousands?
It really is safer for you, your digital assets (like your website and social media accounts), and your bank account to keep your inbox clear of garbage. That way, you'll see right away if something unusual happens. Nothing can be camouflaged if you keep your inbox clear.
If you're one of the many who has thousands of emails all the time in your inbox… it's not just a matter of "it'd be nice to clean that up." Here some risks you're taking if your inbox is out of control:
You could miss customer leads from your website contact form.
Your identity could be stolen because you missed a fraud alert from your bank.
Your website's domain name could be stolen because you missed security alerts from your domain name registrar.
Your website could go offline because you miss emails from your web host warning you your payment method didn't work.
Keeping your inbox clear won't instantly protect you from all the above. But it definitely improves your "security posture"– ie, your readiness to deal with whatever the sketchy online world throws at you.
So how can you keep your head above water– how can you keep the number of emails you deal with to a reasonable number?
Go on an "unsubscribe" spree
Many businesses that we deal with every day collect our email addresses to market to us. Sometimes we voluntarily invited them to do so– but sometimes, we just wanted to buy something we needed and they pressured us or even required our email address for it. 😡
Over time, this adds up to a lot of marketing emails we don't want or need. To get rid of them, search for the word "unsubscribe," and mass unsubscribe from all the newsletters and ads you don't want. Order them by sender, so that if you have a lot from the same sender, you can just hit the unsubscribe link on one of them and move on to the next sender. It'll take a few minutes, but it's worth it doing this all at once to prevent the accumulation of unwanted emails in the future.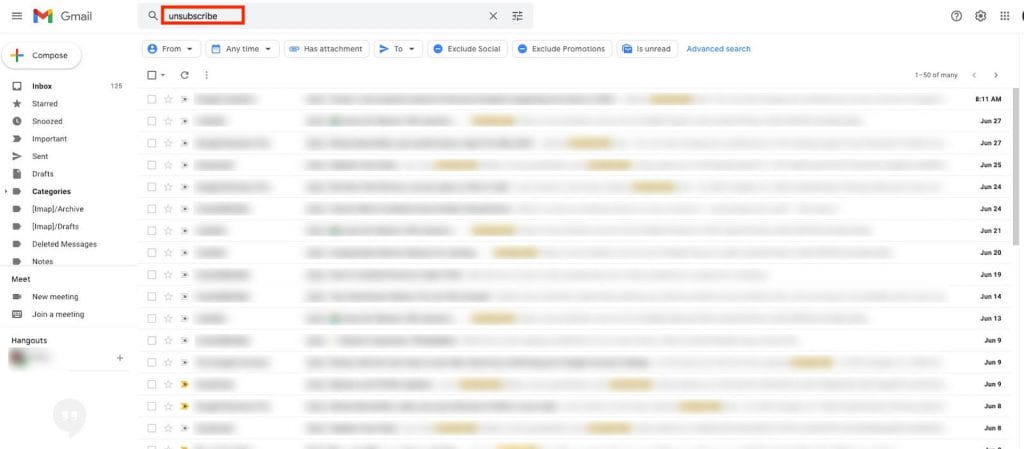 Getting to inbox zero
You know what's amazing? A completely empty inbox! It's so refreshing to know that you've responded, delegated, or closed the loop on all the threads in your inbox.
That can seem out of reach when you're drowning in hundreds of unread emails, or if you use your inbox as a to-do list or a "don't forget to follow up on this" list, as I do.
Most people just leave emails they've read in their inbox. But for me, all that clutter stresses me out. There's a lot of different ways to approach email, and "inbox zero" is just one strategy (and there's a number of ways to do it), but here's what works for me:
I handle anything that takes 3 minutes or less to do right away. Once I've handled it and replied, it gets archived (out of the inbox and into "cold storage"– not deleted).
Stuff that will take longer but can be started on immediately stays in the inbox until it's done, if it can be done in a day.
If it requires doing, but can't be done right now, I schedule the email to pop back in my inbox at the proper time and then archive it till then.
To schedule emails to pop back up in my inbox, the latest Mail app that comes with MacOS allows you to schedule follow ups, and has the same functionality in the Mail app with the latest iOS as well.
If you're not on Mac, there's an alternative. There's a clever service called FollowUpThen. For example, if I need feedback from a client before I do something, I forward that email to the email address nextweek@followupthen.com– that will boomerang that email back to me in a week's time, so if I don't have what I need, I can ping them again. You can schedule different times, like 1hour@followupthen.com, tomorrow@, nextmonth@, etc. Meanwhile, I can archive that email so it's not bugging me until then!
You can read more about how it works on their website, but the quick version is that the app takes the email address that you use (like monday7am@followupthen.com, tomorrow@followupthen.com, nextmonth@followupthen.com, etc) and schedules a reminder email to be sent to you based on which email you use– and you don't have to install anything, log in to anything, or learn how to use any app. It's just email. It's pretty clever!
Just FYI, this isn't sponsored content, and I've been using this app for at least a year or two now for free. I don't send anything confidential through their service– although the reminders are obviously automated, and they have a privacy policy you can read through, I just think it's better to minimize potential risks with confidential stuff. Your mileage may vary.
With the above steps, I find that I can generally keep my inbox empty nearly all the time. If something takes me longer than I thought, I can even forward the email to tomorrow7am@followupthen.com and archive it, so I can enjoy an empty inbox when I finish for the day– I won't forget to finish, since I'll have the reminder the next morning.
Keeping your spam levels to a minimum
Once you've gone on an unsubscribe-spree, and made a plan to handle your necessary everyday emails, you're faced with the Sisyphean task of keeping at it every day. How can you minimize the effort?
One way is by being careful about who gets your email. Don't give somebody your main email if you don't trust them. If you don't want to hear from someone in the future, but you need to receive email from them (or at least give them AN email), one option is to keep a "junk email" around.
But if you don't want to remember one more password, and you need to actually receive an email at the "junk" address, you can use a burner email. Kinda like a burner phone, except it's free! There's many sites offering burner emails, but here's one to try. Obviously, use at your own risk, and I wouldn't use it for anything super confidential.
Another tip is don't reply to any spam emails. If it's obviously junk mail, but says "reply to unsubscribe," just delete it without clicking anything. Replying just tells the sender that they've hit an active email and you'll probably get more. (So be careful with your unsubscribe spree. If they don't give a mailing address, as FTC laws require for mailing lists, but they do include an unsubscribe link, that's a red flag.)
On your website, use spam blockers on any website contact forms. This one you may need help from your web designer on. All my clients get premium spam protection, which virtually eliminates spam from contact forms. I tested it out first to be sure that real humans could still get through, and that leads wouldn't be inconvenienced by annoying captcha quizzes (quick, click all the pictures of trains!) or gateway pages, and when I turned it on, my clients pretty much stopped getting spammed instantly.
Keep your junk/spam folder at zero, too
So once you've cut down on your spam with the above methods, can you ignore your junk folder?
No! You should still monitor your junk folder regularly to ensure you're not missing important stuff. Sometimes, a real person can get caught by a spam filter that's a bit too ambitious. If you delete junk emails as you see them, you'll be able to stay on top of things enough that if a real one gets caught, it'll stand out and not get missed.
I hope this helps you stay on top of email so you can be at peace with your inbox!